I WELCOME YOU ONCE AGAIN TO ANOTHER
SPJESTER PRODUCTION!

Join us on IRC >> FREENODE #TeamVicious to chat with me! For now
Need to get up with me Quick? Add me on Gtalk
Just dont blow me up...
\\\\\\\\\\\\\\\\\\\\\\\\\\\\\\\\\\\\\\\\\\\\\\\\\\\\\
BACK FOR ROUND 3, HELP ME FIX THAT BUG!!
JELLYBLUR V1.3 CM7 v7.2
BASE ROM: Thundershed 1.6
Credits/Big Thanks to: Thundershed, Cyanogenmod
Build time: Aprox. about 4 Days
Additional Credits:
----------------------------------------------------------------------
Thanks to:
Workshed
Cyanogen & Team Douche
slayher
Adrynalyne
ProTekk
Conap
MongooseHelix
imoseyon
xoomdev
Erasmux
MOS95B
theMicheal
SubwayJrd
All Devs that contribute to the Community
Misc Credits:
sonnysekhon - ICS ThemeChooser Theme
kovdev - ICS Launchers theme and wallpapers
kevin2516 - GingerBlurB Theme
----------------------------------------------------------------------
\\\\\\\\\\\\\\\\\\\\\\\\\\\\\\\\\\\\\\\\\\\\\\\\\\\\\
Whats Included In this Rom:
GingerBlurB Default Theme, Nice Twist to things
ZoomKernel in v1.1 / Tiamat 1.1.5 in V1.2
Go Launcher
Alot of Goodies from Bully
Included ICS Theme's from Tsheds. (So You will feel at home)
Super Stability and Speed
Tweaked and cleaned up a few things in build.prop
Cleaned up Some UI Wording and changed a few options
Nexus7 Bootanimation (Don't stare at it to hard lol)
Gapps Embedded With Gtalk Video
Google Play Music W/Latest Market
Multi-Touch Support
MIUI Music
MIUI Camera for better Picture Quality
JellyBean Wallpapers Gallery App
All of the HTC One X Ringtones
Build NOTES:
-What Doesnt Work: You Tell Me
-Run SU binary update in Super User for best results
-Market being slow on first sync with Installed Apps
-Instagram may Say Not Compatible, It Installed fine on a 2nd fresh install of build v1.1. Odd, but Report back
IGNORE REVERTED TO FLASH 10.2 IN CHANGELOG. FIX PROVIDED BELOW
BUGS:
-Brightness Settings in Toggle Button Menu picker force Closes
-MIUI Music Fc's while SD Card Mounted to PC (Not a real issue)
-MyVerizon Does not work over 3g, But you can pay your bill with Wifi
-Google Talk may fail authorization on First boot, Ignore it, Wait for sync then reboot After Allowing
Gmail Permission to Sync, Should be fine after.
\\\\\\\\\\\\\\\\\\\\\\\\\\\\\\\\\\\\\\\\\\\\\\\
SCREENSHOTS: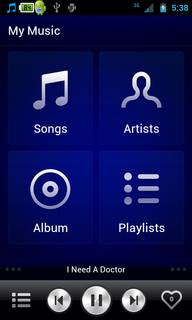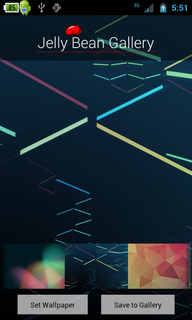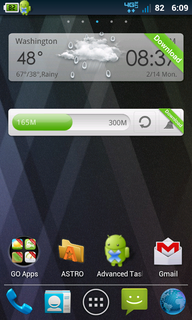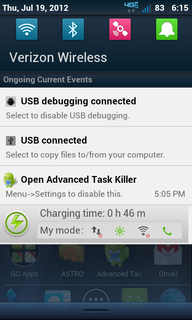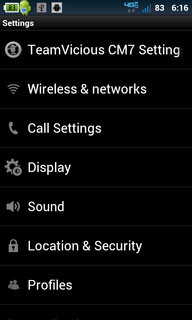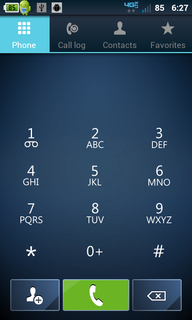 And to show i Fully Support w0rdshed's work!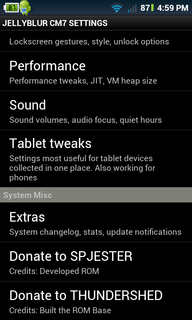 NEWS: Vicious Has Resigned from the Thunderbolt, As more Dev's leave us, ill try my best to keep us going
by improving what we got out there already. As of now any update is considered a update in the TB Section. Cheers
CHANGELOG: Can Also be viewed in Settings > JELLYBLUR CM7 Settings > System Extras at bottom
\\\\\\\\\\\\\\\\\\\\\\\\\\\\\\\
FULL WIPE IS RECOMENDED
Changelog to v1.3 - 07/25/2012
-Removed JELLY Toolkit
-Display Brightness Should Work
-Redid some settings trying to fix
-Fresh Build from the Kitchen
-Edited some Build.prop Tweaks
-ZipAligned Everything
-Rebuilt Settings
-Added Donate Links in Settings
-Auto Rotate Off by Default (1.2)
-Added CM Gallery back
-Added new Wifi Tether App
--------------------------
BUGS/Known Issues:
-Toggle Brightness Settings
IS STILL BROKEN, ONLY THING LEFT,
STILL SOMEWHAT FUNCTIONAL
--------------------------
-VOLUME DECREASES FAST
(Not really a bug)
--------------------------
Version v1.2
FULL WIPE STRONGLY RECOMMENDED
- 07/22/2012
-Took TeamVicious out of title
-Added syncmypix
-Fixed Google Plus Update
-Added GPS Fix
-Added Cache Cleaner NG
-Updated Google Play Music
-Updated SMS Backup
-Fixed Changelog Script
-Added Customized Jelly Settings
Port of of Liquid Settings
-Fixed up Broken Settings
Using Liquids Toolkit
-Added Torch Back (Fixed Toggle)
-Fixed Toggle Settings
Dependent on JellySettings
-Added Visual VoiceMail
-Added Gallery ICS
-Removed CM Gallery
-Changed to Tiamats 1.1.5 Kernel (HAS BETTER VOLUME)
-Updated ICS Theme
-Updated Apps
-Unknown Sources By Default
Version v1.1 - 07/19/2012
-Initial Release Version to Public
DOWNLOAD LINKS:
-------
MD5SUM: ef7c8f404e290b57b5c808944b8fa8b7
Kernel Links
(Baked In Already)
Extras
\\\\\\\\\\\\\\\\\\\\\\\\\\\\\\\\\\\\\\\\\\\\\\\\\\\\\\\\
And don't forget:
*

This is a unofficial custom CM7 ROM and is not supported by Cyanogen or Team Douche!
{DISCLAIMER: ROOTED USERS ONLY! ... by rooting your phone, you have already voided your
warranty. I am in no way responsible for anything that happens to your phone after flashing this rom.
Make sure you've read around the forums and totally understand
what you are doing. If you just pay attention, ask questions and search, you
shouldn't have a problem. Enjoy yourself and have fun!}